By Matti Smith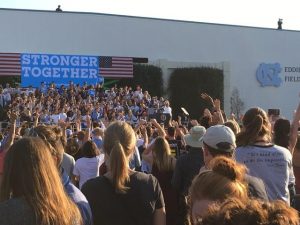 With days before the election, polls indicate that the presidential race in the state is neck-and-neck, and both candidates made efforts this week to sway the state in their direction.
Democratic presidential nominee Hillary Clinton held a rally in Raleigh Thursday, featuring Bernie Sanders and hip-hop artist Pharrell Williams.
On the same day, Republican presidential nominee Donald Trump visited Concord and Selma.
And President Barack Obama paid a visit to UNC Wednesday on behalf of Clinton and drew a huge crowd made up of students and members of the community. He strongly encouraged them — particularly the young people — to get out and vote.