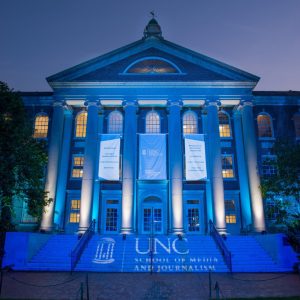 You can reach us at carolinaconnection@unc.edu
---
Carolina Connection is produced by students of the University of North Carolina at Chapel Hill Hussman School of Journalism and Media.
Our live broadcast is heard Saturday mornings at 8:30 on WCHL 97.9 FM and 1360 AM – Chapel Hill's News, Talk, and Tar Heel Station. If you're outside of Chapel Hill, you can hear a live stream at Chapelboro.com.
Our stories also are heard on radio stations throughout North Carolina.
Miss the show?  You can hear any of our past programs here, or you can find us on Spotify, Apple Podcasts, and other podcast platforms.
UNC Hussman School of Journalism and Media
Carroll Hall, Campus Box 3365
Chapel Hill, North Carolina 27599
919-962-1204