By Sierra Pfeifer and Lauryn Lovett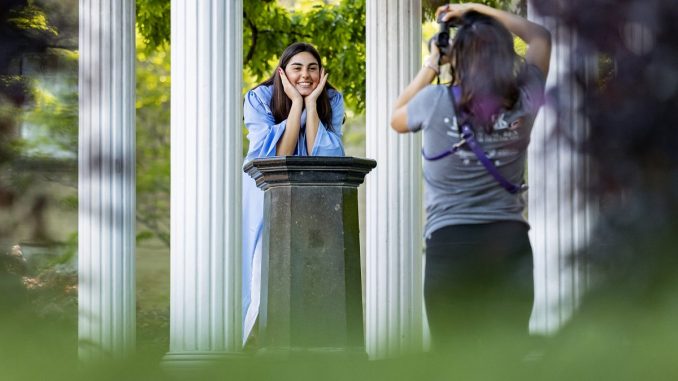 Seniors are focused on preparing for the end of their undergraduate experience. Some already have jobs lined up, while others are still applying.
The application process for seniors can take many forms: Some are using their connections, and others are using job posting websites to aid their search. Dylan Lanfear, a business major who plans to go to law school, found his job using Handshake, the University Career Services' online job and internship posting site. He will be working at KPMG, an audit company in Atlanta, in contract compliance services. 
"I kind of applied cold through Handshake," said Lanfear, "so I was a little surprised that it worked because a lot of my friends, they had, like, an in or something. Handshake, the good-old-fashioned way, worked for me." 
Director of UNC Career Services Tierney Bates said the university just posted six thousand new jobs on Handshake.
"We only have […] about four thousand undergraduates graduating," said Bates. "So, if you think about it, there's a job out there for everyone. The key is the type of industries, the type of work they want to do, the salary they want to make and their career interests." 
Despite finding his job on Handshake, Lanfear said the process wasn't necessarily easy and that he was turned down for other positions he applied for. His main recommendation for future graduates was to remain optimistic. 
"The biggest rec I can give," said Lanfear, "is not to be discouraged, ya know. UNC is a competitive place […], and you can easily get bummed out when comparing yourself and seeing other people's success. […] So, I would just say, you know, just keep applying and keep up the good work. It's going to come eventually, and you're coming from a great place."
The sentiment was echoed by senior Abby McNotan, who doesn't have a job lined up following graduation. But she has started her search and is looking for positions outside of her environmental studies major. 
"Just keep trying," said McNotan. "I sent out a bunch of LinkedIn messages thinking 'no one will answer these. Who even checks their LinkedIn message?' and I sent 10 and I got 3 replies. I think that is pretty good." 
Like McNotan, Mid Salgado applied to jobs that she hadn't originally been interested in. She majored in psychology and Spanish but found a position as a 6th grade teacher in Arizona. 
"We have very limited job experience since we've been students for the past four years," said Salgado. "So, I found myself looking for whatever was available. And of course, it didn't necessarily pertain to my major, but I see it as a stepping stone to hopefully getting to a job that pertains to what I want to do."
While it may seem to some seniors that their classmates have everything figured out, Salgado says that is not reality. 
"If you are not feeling like some sense of anxiety or a little bit scared at this point in your life, that's absurd," Salgado said. "Like, we're at this point of extreme transition in our life, and I think the best advice someone gave me is like, it's okay to not know what you want to do. It's okay to not have a plan It's okay to not know exactly what your life is going to look like in the next few years."
Still, Bates says that seniors should feel optimistic about their career prospects. 
"The graduating seniors should be very excited because they're walking into a job market that is all about them," said Bates. "They're graduating into a market that needs talent and that they can negotiate salaries, sign on bonuses, multiple different things."