by Charlie Shelton
In the past month, millions have done the ALS Ice Bucket Challenge, a social media campaign that raises money for research on ALS, or Lou Gehrig's Disease. People douse themselves with icy water, while challenging others to do the same or donate to the ALS Association. But a UNC medical researcher says more should be done to help what seems to be an incurable disease. Charlie Shelton reports.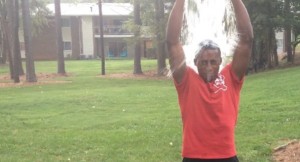 UNC Senior Jerrod Powers is getting his ice bucket ready. In a couple seconds, he'll dump more than five gallons of freezing water all over himself.
Powers is doing the ALS Ice Bucket Challenge. You've probably seen videos of people dumping buckets of ice water on themselves, and then challenging others to do the same, or to donate to the ALS Association.
This viral campaign aims to raise awareness and money to find a cure for what is commonly known as Lou Gherig's Disease. Some dump, others donate, but most do both.
"It's a good way to bring social media to a good cause and obviously ice water has nothing to do with ALS, but it gets people's attention and says its something worth fighting towards," Powers said.
Powers has his bucket in the ready position and after challenging a couple friends on camera, he lifts, and dumps the cold water onto himself.
Donations from the Ice Bucket Challenge go to the ALS Association, a private organization that says it's received more than a hundred million dollars from three million donors.
That's pretty impressive fundraising, but the campaign is starting to lose some steam and even Powers admits he was a little late to the challenge.
UNC medical researcher Dr. Jonathan Serody says that is the problem with this campaign. While donations can do a lot of good, the Ice Bucket Challenge isn't a sustainable way to support research in the long-run.
"I think if people would take this and figure out some way to consistently do this for 20 years, that would be a game changer for them," Serody said. "But, I haven't seen a game plan to do that. This can't be a substitute approach to funding longitudinal research like the NIH."
The NIH is the National Institute of Health, a government agency that supports most medical research. The NIH gets billions of dollars from the federal government every year , but in the past five years Congress has cut the NIH's budget.
Since 2010, the NIH has seen funding for ALS research decrease by a third. Right now, the Ice Bucket Challenge has two steps, dump and donate, but Serody says a good third step for people who care about ALS research is to contact their members of Congress
"Without a consistent revenue source, it's hard for people to continue to do it at the level that you could and you may realize you don't have the resources to support your laboratory and you may have to completely downsize," Serody said.
The ALS Association agrees that researchers need a more permanent funding source, but the group says the Ice Bucket Challenge is helping people with ALS in more direct ways, such as helping them pay for drug therapy and counseling.
ALS Association President Barbara Newhouse has said they focus on three things: research, caregiving and advocacy. While funding for research is needed, the Ice Bucket Challenge will better the lives of patients already dealing with the disease. But as people receive treatment and researchers continue to look for a cure, Powers and millions more continue to cool down for a growing cause.