by Paige Comparato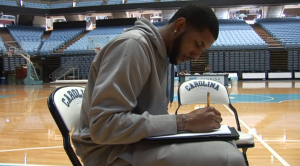 Redshirt Senior Leslie McDonald came up big for Carolina in the Duke game Thursday.  He scored a team high 21 points and was a major contributor to helping the Heels come back from as much as an 11 point deficit.
In addition to his well-documented talents on the court, McDonald has some under reported artistic pursuits.
Paige Comparato reports.