by Andrew Tie
Carolina Connection's Andrew Tie reports for WCHL News:
http://chapelboro.com/news/unc/active-fire-at-cobb-residence-hall/
Fire and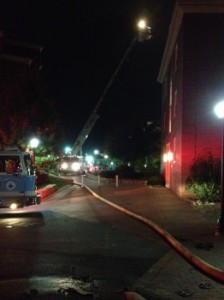 police personnel were called in response to a fire in the attic of Cobb Residence Hall on UNC's campus.
Smoke from the fire is causing visibility problems as well as congestion. Pedestrians and motorists are being asked to avoid the area until the scene is cleared.
Carolina Connection's Andrew Tie says that they were told the fire was in the attic and is possibly an electrical fire.
Tie says an official said that the alarm went off earlier today and several teams have responded.
Cobb Residence Hall, built in 1952 and renovated in 2005, holds around 400 coed residents.
Tie says that the fire has been contained, but students may not be able to stay in the dorm tonight.
Police have blocked off parts of Country Club Rd. near Forest Theater to reach the fire.
Listen to Andrew Tie's earlier report from 5:40 pm Tuesday: