By Lydia Wilson
For the past 45 years, the defacto marker of the students' efforts to repeal the Speaker Ban was a photograph. Taken from a tree,the image shows a banned speaker standing just off campus on the Franklin Street sidewalk, addressing a sea of students sitting on the grass of McCorkle Place.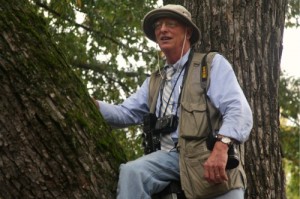 The photographer was Jock Lauterer – then the photo editor for the Daily Tarheel, now a Lecturer in photography at
UNC's School of Journalism and Mass Communication.
Lauterer decided to get back up in the same tree to photograph the Speaker Ban Monument dedication ceremony. Here is his audio diary of that experience.