By Chris Ireland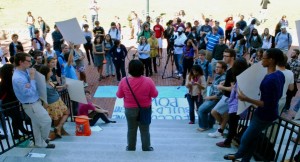 UNC students are participating in a growing national protest.
It started when a couple hundred people in New York City decided to occupy Wall Street. Police stopped them before they got there, but they've been camped out in Manhattan since.
They say they're angry about what they see as greed on Wall Street, bank bailouts, and a whole lot of other things.
And this week, their numbers surged as occupy where ever-you-are protests took off throughout the country, including on UNC's campus.