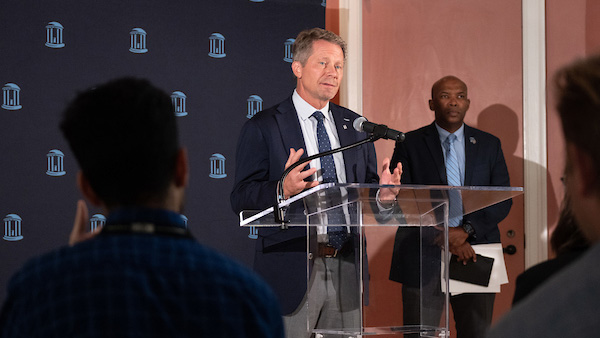 A report in the Michigan State University student newspaper has put the future of UNC's leadership in doubt. The report said UNC Chapel Hill Chancellor Kevin Guskiewicz is the sole remaining candidate in Michigan State's search for a new president.
MSU has dealt with several crises in recent years – including the sex abuse conviction of gymnastics team doctor Larry Nassar. Four MSU presidents have been ousted from their positions in the past five years.
Guskiewicz has not said whether he's leaving UNC.
"I am focused on serving the University of North Carolina at Chapel Hill, a special place I have lived, worked, and loved for 28 years," Guskiewicz said in a written statement. "Through the years, a variety of professional opportunities have been presented to me. My family and I must weigh each one, and we are weighing this one."
UNC-Chapel Hill Board of Trustees Chairman John Preyer put out a statement wishing Guskiewicz and his family well as they consider their decision. But he added, "The success of our university and the promise of its future is bigger than any one person. The momentum and leadership of our state's world-class university will continue."
Anna Liz Nichols is a reporter for the Michigan Advance and a recent graduate of MSU. She joins us to discuss her alma mater's search for