By Anna Pogarcic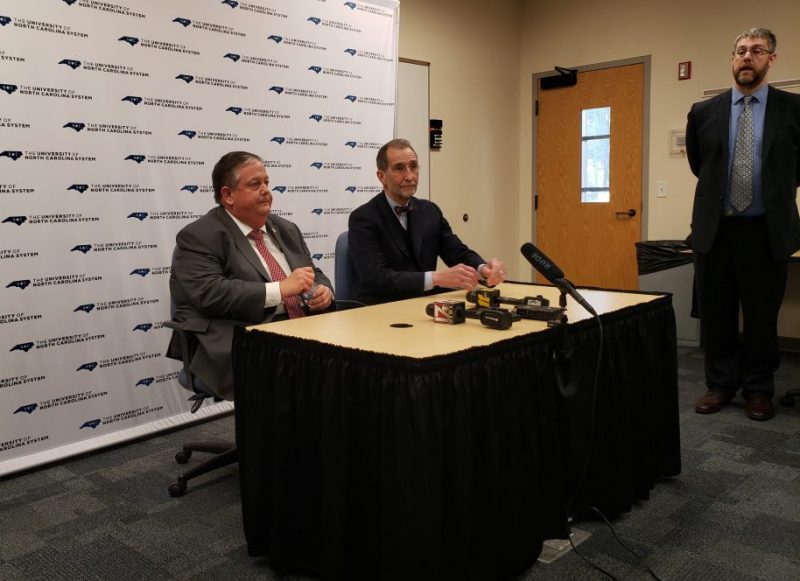 The chair of the UNC Board of Governors has reaffirmed that Silent Sam won't return to campus, but also expressed frustration at the ongoing controversy.
Chair Randy Ramsey called the entire situation a distraction.
At the Board's Friday meeting, Ramsey briefly referred to a judge's decision that voided an agreement to give the statue to the Sons of Confederate Veterans.
"We hoped our action would allow the university to focus on the core responsibilities while keeping Chapel Hill safe," Ramsey said.
Now after the judge's decision, the fate of the statue is up in the air
Ramsey says the Sons of Confederate Veterans will return the statue to UNC. The group will also return the funds it has already collected from a $2.5 million  trust. A judge gave the Confederate group 45 days to do so.
The timeline for what comes next is uncertain, but the Board says the statue will be kept off campus until there's a permanent solution.
Talking with reporters after the meeting, Ramsey was frustrated at the amount of attention the statue is receiving.
"That monument does not educate students, it does not run the universities, it does not make governance decisions regarding this university, and this board is here to govern this university and educate students of North Carolina," Ramsey said.
Ramsey says the Board has other important issues to deal with, like the search for the next UNC System president. Ramsey also says the Board is trying to highlight the effects of the budget impasse in Raleigh, which has kept the system from making renovations and hiring faculty.