By John Thomas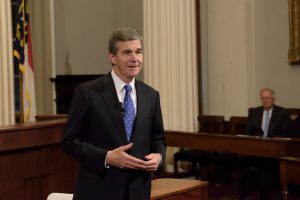 House Bill 2 is out. House Bill 142 is in.
Democratic governor Roy Cooper signed the new bill into law Thursday afternoon. It repeals the provision of HB2 that required people to use the bathroom of the gender on their birth certificate. But House Bill 142 also bans local governments from passing non-discrimination ordinances through 2020. The city of Charlotte attempted to pass such an ordinance back in March 2016, which sparked the passing of HB2.
Governor Cooper said the new bill is a good start, but that he's not satisfied.
The repeal of House Bill 2 is good news for North Carolina sports. The NCAA and ACC removed all their postseason championships from the state for the previous academic year because of HB2. The NCAA was also considering extending that ban through 2022 and announced earlier this week that North Carolina had until Thursday to repeal HB2.
The ACC has already announced that it will consider North Carolina as a host for its championships. And Orange County representative Verla Insko said she expects the NCAA to follow suit when it makes a decision next week.
But bringing back sports doesn't satisfy supporters of LGBT rights. They say that HB142 isn't much better than HB2 because it doesn't allow local governments to legally protect members of the LGBT community from discrimination. Damon Seils joins us to discuss this. He is a member of the Carrboro Board of Aldermen.